What's Next is a meme hosted by IceyBooks. Where I show books that I want to read and you (the reader) gets to choose what one I read next.
I have a list of netgalleys I need to read, so some of these might have been on the list before but I need to read them so there on here again.
Choices (listed alphabetically):
Interrupted: Life Beyond Words by Rachel Coker
Summary from B&N.com:
Can love really heal all things? If Sam Carroll hadn't shown up, she might have been able to get to her mother in time. Instead, Allie Everly finds herself at a funeral, mourning the loss of her beloved mother. She is dealt another blow when, a few hours later, she is sent from Tennessee to Maine to become the daughter of Miss Beatrice Lovell, a prim woman with a faith Allie cannot accept. Poetry and letters written to her mother become the only things keeping Allie's heart from hardening completely. But then Sam arrives for the summer, and with him comes many confusing emotions, both toward him and the people around her. As World War II looms, Allie will be forced to decide whether hanging on to the past is worth losing her chance to be loved.
Summer of The Wolves by Lisa Williams Kline


Summary from B&N.com:
Stepsisters, yes. Friends? Maybe ...
'I smelled the wolf now---sharp and musky. I scanned the pen and saw a shadow behind one of the bushes that might be another wolf. Probably two of the most miserable looking creatures I'd ever seen.' --from Summer of the Wolves Stephanie and Diana are having a hard time adjusting to life as new stepsisters. The girls 'pretend' to like each other, but it's pretty hard considering they are complete opposites. When their new family takes their first-ever vacation to a horse ranch in North Carolina, not even long horse-back rides in the forest can tame their tempers. Diana's anger issues and Stephanie's fear of everything prove disastrous, until Diana discovers the caged wolves in the deep woods. She vows to free them, and surprisingly, Stephanie agrees to help. But their actions have unforeseen consequences, and if there's any chance to make things right, Stephanie and Diana must put their differences aside
The Demon Catchers of Milan by Kat Beyer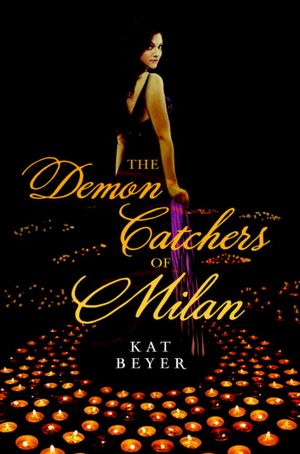 Summary from B&N.com:
Mia's ordinary life is disrupted for good in the most horrifying way possible when she is possessed by a hungry and powerful demon—and saved only by the arrival of relatives from Italy, the country her grandfather fled many decades ago. Now her cousins, the charming and gorgeous Emilio and stern, elderly Giuliano, say the only way to keep Mia safe is for her to come back with them to Milan, to live, to learn Italian, to fall in and out of love, and to master the family trade: fighting all demons with the ancient lore of bell, book, and candle. Milan is not what Mia expected, but it will change her forever.
Wilde's Fire (Darkness Falls, Book One) by Krystal Wade
Summary from B&N.com:
"There is no pain in this death, only peace, knowing I am going to die with the one I love the most." - Katriona Wilde.
Katriona Wilde has never wondered what it would feel like to have everything she's ever known and loved ripped away, but she is about to find out.
When she inadvertently leads her sister and best friend through a portal into a world she's dreamed of for six years, she finds herself faced with more than just the frightening creatures in front of her. Kate's forced to accept a new truth: her entire life has been a lie, and those closest to her have betrayed her.
What's worse, she has no control over her new future, and it's full of magic and horrors from which nightmares are made.
Will Kate discover and learn to control who she really is in time to save the ones she loves, or will all be lost?
What should I read next?
Vote in the comments and leave me a link to your post if you did one.