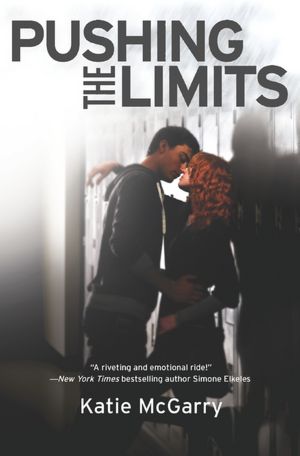 Received From: Harlequin Teen via NetGalley
No one knows what happened the night Echo Emerson went from popular girl with jock boyfriend to gossiped-about outsider with "freaky" scars on her arms. Even Echo can't remember the whole truth of that horrible night. All she knows is that she wants everything to go back to normal.
But when Noah Hutchins, the smoking-hot, girl-using loner in the black leather jacket, explodes into her life with his tough attitude and surprising understanding, Echo's world shifts in ways she could never have imagined. They should have nothing in common. And with the secrets they both keep, being together is pretty much impossible.
Yet the crazy attraction between them refuses to go away. And Echo has to ask herself just how far they can push the limits and what she'll risk for the one guy who might teach her how to love again.
Pushing the Limits is a tear-jerking hypnotic book, that will keep you on the edge of your seat until the end of the book. Katie McGarry did a beautiful job writing this book. The story line and writing will blow you away.
The point of view alternates between the two main characters, Echo and Noah. Echo and Noah's families and lives are in pieces. Echo's brother is dead, her parents are divorced, her mother is bi-polar, and her ex-babysitter is her step-mom. One horrible night at the end of her sophomore year that Echo can't even remember left her with scars on both of her arms. Noah's parents died in a fire the summer before his sophomore year, leaving him and his two younger brother in foster care. His brothers are in a different home then him, and he has limited visitation. After he graduates Noah is going to sue for custody of his brothers to put his family back together. Echo starts to tutor Noah the second semester of their senior year, and they fall for each other. But how do they fit in each others messed up lives?
Katie McGarry's writing was so captivating. She traps you in the book and it's like you are right there in the book. The emotions of what the characters are going through is packed under each word. The alternating point of view was balanced perfectly, I was never wanting to go back to the other character after it switched.
I loved everything about this book. Pushing the Limits is a beautiful and heartbreaking book, that is also beautifully written. I recommend this book to everyone who likes YA.