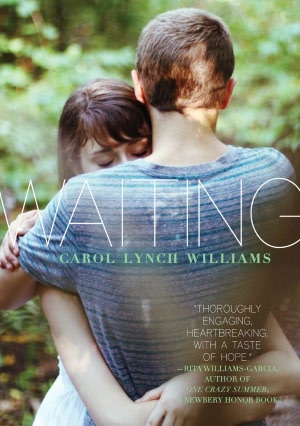 Author: Carol Lynch Williams
Genre: YA Realistic Fiction
Release Date: 5/1/2012
Summary From B&N.com:
After her brother's death, a teen struggles to rediscover love and find redemption in this gripping novel.
Growing up, London and Zach were as close as could be. And then Zach dies, and the family is gutted. London's father is distant. Her mother won't speak. The days are filled with what-ifs and whispers: Was it London's fault?
Alone and adrift, London finds herself torn between her brother's best friend and the handsome new boy in town as she struggles to find herself—and ultimately redemption—in this authentic and affecting novel from award-winning novelist Carol Lynch Williams.
My Review:
Waiting puts the realistic in realistic fiction. This book grabbed me and put me in it the minute I started reading it. This book is an great emotional read.

This book is about a girl named London. Her brother dies, her dad is always at work, her friend doesn't talk to her any more, and her mother won't talk to her. Where does that leave her? She struggles though her grief of her brother's death alone. There is this new boy at school, he brings London new feelings. London's ex-boyfriend, who was also her brother's best friend, is suddenly back in her life. They both help her find voice, and help get though her grief of her loss.

This book is written in verses. The verses let you see so much more into the emotional aspects of London's life. London is incredibly strong. Not only has she lost her brother, but also her mother, and in ways her father. Carol Lynch Williams combined this strong character with these emotion filled verses, to create a truly heartbreaking book.

There also was a down side to the verse. With the verse there was no chapters. Which did make a bit confusing in time jumps. But other than that this book well written.

This book was really good. The story line is meaningful and heart breaking. Waiting is beautiful realistic story about loss, and finding yourself again after a loss.