What's Next is a meme hosted by
IceyBooks
. Where I show books that I want to read and you (the reader) gets to choose what one I read next.
Choices
(listed alphabetically)
:
Between the Lines by Jodi Picoult and Samantha Van Leer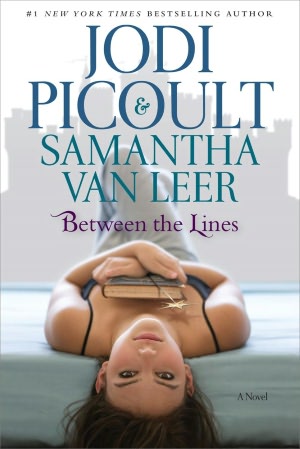 Summary from B&N.com:
What happens when happily ever after…isn't?
Delilah is a bit of a loner who prefers spending her time in the school library with her head in a book—one book in particular. Between the Lines may be a fairy tale, but it feels real. Prince Oliver is brave, adventurous, and loving. He really speaks to Delilah.
And then one day Oliver actually speaks to her. Turns out, Oliver is more than a one-dimensional storybook prince. He's a restless teen who feels trapped by his literary existence and hates that his entire life is predetermined. He's sure there's more for him out there in the real world, and Delilah might just be his key to freedom.
Delilah and Oliver work together to attempt to get Oliver out of his book, a challenging task that forces them to examine their perceptions of fate, the world, and their places in it. And as their attraction to each other grows along the way, a romance blossoms that is anything but a fairy tale.
Grounding Quinn by Stephanie Campbell
Summary from B&N.com:
Eighteen-year-old Quinn MacPherson's biggest fear has always been turning out like her mentally unstable mother. (Solving algebraic equations comes in as a close second.)

That is, until she meets Benjamin Shaw.

Quinn thinks hooking up with Ben over summer vacation will be nothing more than a quick fling. She can't even commit to a nail polish choice, much less some guy.
Unfortunately for her, Ben is not just some guy. Ben gets her- the real her, flaws and all- and that scares the hell out of her.

When Ben does the unthinkable- tells Quinn he's in love with her- she does what comes naturally. She pushes him away. Ben can only watch from a distance as Quinn lashes out, and punishes him for daring to care about her.

But how far can you push someone, even someone who loves you, before they are gone for good?
Mothership by Martin Leicht and Isla Neal
Summary from B&N.com:
Teen pregnancy is never easy—especially not when extraterrestrials are involved. The first in a new trilogy.Elvie Nara was doing just fine in the year 2074. She had a great best friend, a dad she adored, and bright future working on the Ares Project on Mars. But then she had to get involved with sweet, gorgeous, dumb-as-a-brick Cole—and now she's pregnant.Getting shipped off to the Hanover School for Expecting Teen Mothers was not how Elvie imagined spending her junior year, but she can go with the flow. That is, until a team of hot commandos hijacks the ship—and one of them turns out to be Cole. She hasn't seen him since she told him she's pregnant, and now he's bursting into her new home to tell her that her teachers are aliens and want to use her unborn baby to repopulate their species? Nice try, buddy. You could have just called.So fine, finding a way off this ship is priority number one, but first Elvie has to figure out how Cole ended up as a commando, work together with her arch-nemesis, and figure out if she even wants to be a mother—assuming they get back to Earth in one piece.
Second Chance Summer by Morgan Matson
Summary from B&N.com:
Taylor Edwards' family might not be the closest-knit—everyone is a little too busy and overscheduled—but for the most part, they get along just fine. Then Taylor's dad gets devastating news, and her parents decide that the family will spend one last summer all together at their old lake house in the Pocono Mountains.
Crammed into a place much smaller and more rustic than they are used to, they begin to get to know each other again. And Taylor discovers that the people she thought she had left behind haven't actually gone anywhere. Her former best friend is still around, as is her first boyfriend…and he's much cuter at seventeen than he was at twelve.
As the summer progresses and the Edwards become more of a family, they're more aware than ever that they're battling a ticking clock. Sometimes, though, there is just enough time to get a second chance—with family, with friends, and with love.
What should I read next?
Vote in the comments and leave me a link to your post if you did one.