What's Next is a meme hosted by
IceyBooks
. Where I show books that I want to read and you (the reader) gets to choose what one I read next.
Choices
(listed alphabetically):
Angelfire by Courtney Allison Moulton
Summary from B&N.com:
First there are nightmares.
Every night Ellie is haunted by terrifying dreams of monstrous creatures that are hunting her, killing her.
Then come the memories.
When Ellie meets Will, she feels on the verge of remembering something just beyond her grasp. His attention is intense and romantic, and Ellie feels like her soul has known him for centuries. On her seventeenth birthday, on a dark street at midnight, Will awakens Ellie's power, and she knows that she can fight the creatures that stalk her in the grim darkness. Only Will holds the key to Ellie's memories, whole lifetimes of them, and when she looks at him, she can no longer pretend anything was just a dream.
Now she must hunt.
Ellie has power that no one can match, and her role is to hunt and kill the reapers that prey on human souls. But in order to survive the dangerous and ancient battle of the angels and the Fallen, she must also hunt for the secrets of her past lives and truths that may be too frightening to remember.

Immortal Beloved by Cate Tiernan
Summary from B&N.com:
Nastasya has spent the last century living as a spoiled, drugged-out party girl. She feels nothing and cares for no one. But when she witnesses her best friend, a Dark Immortal, torture a human, she realizes something's got to change.
She seeks refuge at a rehab for wayward immortals, where she meets the gorgeous, undeniably sexy Reyn, who seems inexplicably linked to her past.
Nastasya finally begins to deal with life, and even feels safe—until the night she learns that someone wants her dead.

The Vincent Boys by Abbi Glines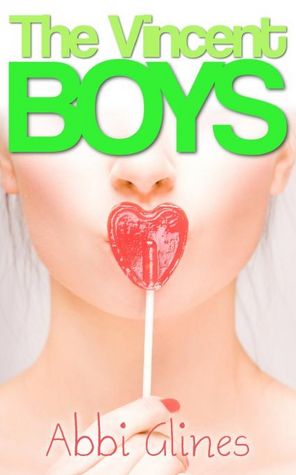 Summary from B&N.com:
Being the good girl isn't all it's cracked up to be. Ashton Gray has grown weary of playing the part to please her parents, and to be worthy of the town's prince charming, Sawyer Vincent. Maybe That's why she's found herself spending time with Sawyer's cousin, Beau, while he's away for the summer camping with his family. Beau is nothing like her perfect boyfriend. He's the sexiest guy she's ever seen, dangerous in ways she's only day dreamed about, and the one guy she should stay away from.
Beau never envied Sawyer his loving parents, his big nice home, or his position as quarterback. He loves him like a brother. Which is why he's tried everything in his power to keep his distance from Sawyer's girlfriend. Even if he has loved her since the age of five, Ashton is Sawyer's girl, so therefore she's off limits. But when Sawyer leaves for the summer, Ashton, the one girl Beau would move Heaven and Earth for, decides she wants to get into trouble. Stabbing the one person who's always accepted him and stood by him in the back, is the cost of finally holding Ashton Gray in his arms. Is she worth losing his cousin over?.... Hell Yeah.
What should I read next?
Vote in the comments and leave me a link to your post if you did one.