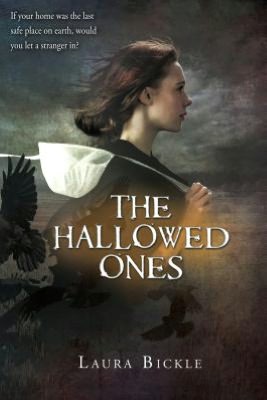 Author: Laura Bickle
Release Date:9/25/12
Genre:YA Dystopian / YA Apocalyptic / YA Amish
Received from: Houghton Mifflin Harcourt via NetGalley
Summary from B&N.com:
Katie is on the verge of her Rumspringa, the time in Amish life when teenagers can get a taste of the real world. But the real world comes to her in this dystopian tale with a philosophical bent. Rumors of massive unrest on the "Outside" abound. Something murderous is out there. Amish elders make a rule: No one goes outside, and no outsiders come in. But when Katie finds a gravely injured young man, she can't leave him to die. She smuggles him into her family's barn—at what cost to her community? The suspense of this vividly told, truly horrific thriller will keep the pages turning.

My Review:

The Hallowed Ones is an addicting book that takes you into a spine-chilling world. The mix of subjects will take your breathe away. Laura Bickle did an incredible job creating this world and book.

Katie who is Amish, is about to go on her Rumspringa, but then the world as she knows it starts to crumble. The Amish elders says no one can go outside or come inside the community. Katie breaks that rule twice. First she brings in a hurt outsider. Then she goes outside to get supplies, and what she discovers will scare her out of her mind (and the reader).

Katie is the perfect

protagonist

for this book. The mix of her being a heroine and Amish is the perfect blend for her character and the book. I loved reading her inner conflict of her being Amish and all of her Amish beliefs against this inner heroine that is trying to get out.
The setting of this apocalyptic world focused on this Amish community was completely fascinating. This book is completely it's own genre. Laura Bickle has taken two completely different subject and combined them in to something that will blow you away.

This book was so interesting and thrilling. Laura and me on the edge of my seat hanging onto every single word. There is a major cliffhanger ending that leaves you craving more. Some parts of the book were a bit gruesome, but even though parts of the book are scary it is still overall a really good book.
I loved this book, and I can't wait for more. This is a book you don't want to miss. The Amish mixed with the apocalyptic world was addictive and one of a kind.

I recommend this book to anyone who likes apocalyptic books and are also fascinated by the Amish.