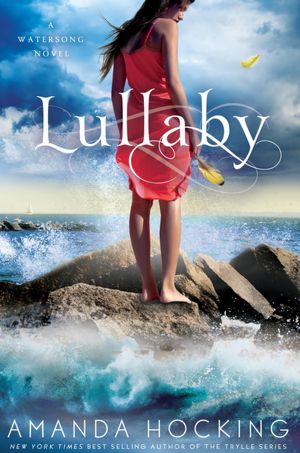 Author: Amanda Hocking
Book 2 in the Watersong Series
Genre: YA Paranormal
Link to My Wake Review
Release Date: 11/27/2012
Received from: Publisher
Summary from B&N.com:
Harper only wanted a safe, normal life. But when her younger sister Gemma runs off with a dangerous clique of beautiful girls, Penn, Thea, and Lexi, everything changes. Vowing to get her sister back no matter what the cost, Harper must face dangers unlike any she's ever experienced. Fortunately, she has Daniel by her side, a gorgeous guy who's devoted to helping her find her sister—and who's immune to the girls' dark powers.
While Harper searches for her sister, Gemma struggles to adjust to her new life. Gemma's powers are growing by the day, and the longer she lives with her new "sisters," the harder it is to resist entering their magical world. It's a realm both dark and beautiful, and where she's plagued by strange hungers and unspeakable needs. Just as she's drifting far away from her old life, Harper and Daniel find her...but no one can deny how much she's changed. All she wants is to return to her family and the mortal world, but how can she do that when she's become something else entirely—and will they still love her once they learn the truth?
Prepare to fall under the spell of Lullaby, the second book in the Watersong series from New York Times bestselling author Amanda Hocking.
Lullaby is just a

s amazing as Wake.
It's riveting,

exciting

, and it keeps you on the edge of your seat. The storyline was

unpredictable

an

d amazing.

This book focused more on Harper than Gemma, and it was really great to connect more with Harper. Amanda

Hocking's writing is just as incredible as it is in her other books.
Gemma's gone, and Harper has to find her and figure out what is really going on. With Alex's and Marcy's help she sets out to find Gemma and find out what's going on. Like the last book Harper continues to push

Daniel

away. Gemma has to figure out her life as a siren. This book is so incredible, the things that happen in this book will leave you speechle

ss.
This book mainly focuses on Harper instead of Gemma in this book. In Wake I didn't really care much about Harper, Gemma was much more interesting than Harper. But in this book you learn so much more about

Harper

. I really loved learning more about Harper, and having time to connect to her instead of always focusing on

G

emma.
I love Amanda Hocking's books, and this one does not

disappoint

. The

writing

is incredible. The storyline and character are unpredictable and incredible. This book is a great sequel to Wake, and I can't wait for the rest of the ser

ies.
I loved Lullaby. It makes me love the Water

song Series even more. I can't wait to read what happens next. This book is so amazing. I recommend this to any Amanda Hocking fans.